Wow, another year as an "Indie Game Developer" had passed and a new one is coming! I'm not sure if I'm more excited from this amazing year or from the upcoming year which is absolutely going to be even more exciting, productive and of course, full of game development!
Let's try and summarize what happened during this year:
It started with my decision of joining the amazing quest of 1GAM - "1 Game A Month", in which I accepted the challenge of making at least 1 game each month during 2013. I can proudly say that I've managed to complete the challenge and even made more than 12 games this year, unfortunately the 1GAM website wasn't capable of hosting more than 12 games per person
Enough talking, let's see which games I made during this year:
And there are even a few other cool games\projects which I created and weren't published
Beside (or maybe along with?) making all of these games I've been also fully socially active during this year. I tried to be as much social as I can on Twitter and Facebook and I participated on many game development events and jams. Some remarkable events are:
Global Game jam 2013
The first jam of the year! One of the coolest jam happening around the world (besides Ludum Dare of course
). I've already wrote a post about it which can be found right here.
Molyjam 2013 - Tel Aviv
That was an amazing international game jam which was hosted here in Israel, Tel-Aviv by us, the Kfar-Saba Indies! Eli Brody and I were organizing the jam hosting for a few week and managed to receive the whole 26th floor of the Electra Tower in Tel Aviv, which is the Google Campus floor
We also received some sponsorship and help from GameIS - "the digital games industry association in Israel", which was great. About 40 game developers (Programmers, graphic designer, musicians etc.) from around the country came to the campus and divided into groups, during the weekend of the jam each group made a game, and even Eli and I managed to form a group and make a game - A Tale of Two Maps
We met a lot of cool new people and our game received some coverage, which was really aweome.
Innovate for Good
Innovate for Good is a Microsoft YouthSpark Program in which teenagers from around the country meet each other to try and make a change in our community. I first heard about the program through Facebook, they were looking for designers, programmers and entrepreneurs, so I registered myself as a programmer. I had to do a short admission test to be accepted, making a little Twitter feed application in WPF. I successfully passed the test and a few weeks later I was at Microsoft offices together with a lot of other teenagers from around the country. We were divided into groups containing teen programmers, designers and entrepreneurs. In my group I was the only programmer
Each group was connected with an association that is working for the community, my group was connected with an organization called "Ofek-Liyladenu" which is helping parents of visually impaired and blind children. Our group had to build a Windows Phone application\game that will help parents of visually impaired children teach them how to read a clock. We had 2 months to build the application from zero and we successfully did it by ourselves and some help from Microsoft mentors.
Google Hangout Hackathon
The Google Hangout Hackathon was organized by Google and GameIS - "the Digital Games Industry Association in Israel". The goal of the hackathon was to make a Google Hangout application/game based on a theme, which was "garden games", in 48 hours while fully using the capabilities of Google Hangout. A few weeks before the hackathon, GameIS were looking for mentors who will go to a training day at Google about the Hangout API a few days before the hackathon itself, the role of the mentors was to roam between the groups during the hackathon and give them some help. I decided to be a mentor myself and went to the training day at Google, it was really fun to be there and meet the other mentors, but I most say that training wasn't informative enough
so I mostly learned for the hackathon by myself. Another special thing about this hackathon was that a few schools from around the country sent some of their students to it, so about half of the participants were teenagers while the other half were mature game developers, it was a really interesting experience and it was really fun taking part in it!
 Beside my role as a mentor roaming between the groups and helping them, which actually was really fun, I used to know almost everybody until the end of the hackathon, I also formed my own group together with some students and developed our own game! At the end of the hackathon there was a little lottery and I somehow won a  Nexus 7!
My Lecture: Being an Indie Game Developer
Three months before the lecture, Ofer Priell, a former educator, invited me to give a 10 minutes lecture in part of the "Hertzl" project, TED-like events for teenagers, held by "interesting, special and inspiring teenagers" . At first I was a bit unsure about this tempting invitation, what am I going to give a lecture about? Is my story as an indie game developer so interesting? inspirational? I had "only" three months full of drafts writing, brainstorming and rehearsals untill the big day. The event itself was amazing, 6 incredible teenagers (including myself
) with great stories from around the country giving lectures in-front of hundreds students from variety of high-schools. Including a story of a 18 years old entrepreneur, an 17 years old singer and cartoonist which is "also" an autistic, and of course there was my lecture! I learned a lot about myself thanks to this incredible experience and I even had the chance to share my view on life with a large audience, awesome!
GameIS Game Of The Year Award
Surely the best moment of my year as an indie game developer. The Annual Israeli Game Industry Conference took place at the end of December, what a great way to end 2013
Besides being the main event for game developers in Israel, this conference was very special for me because of the GameIS Awards Ceremony. "The traditional GameIS awards ceremony takes place as part of the conference for the sixth time this 2013. This is a recognition of the most outstanding Israeli games, declaring the most influential developers over the past year.". There are a few categories in the ceremony such as "Commercial Games" and "Mobile Games". A list of finalists in each category is chosen by a panel of judges, and from each category there is a winner which is announced live on stage and receive a nice statue and recognition.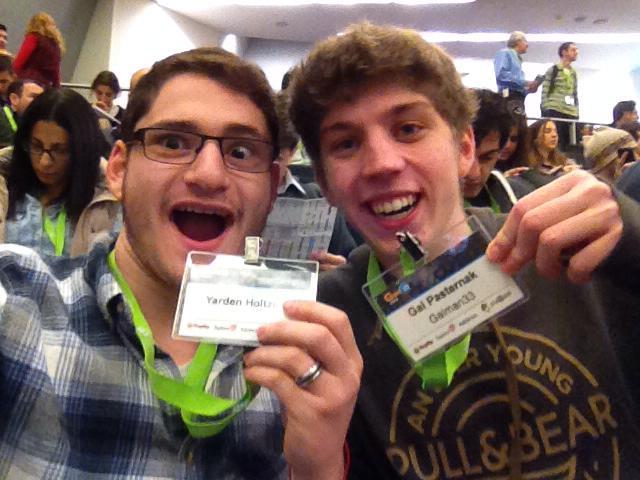 A few weeks before the annual conference the registration for the Game Of The Year Awards opened, I wasn't sure at all about submitting my games, but I had a lot of pressure from friends
so I submitted my game The Cave Of Lights in the category "Garage Games"(Games made by 1-5 people, indie). I made The Cave Of Lights all by myself during 48 hours for Ludum Dare 27 and I think that it was one of my best games. A few weeks later I received an email from GameIS that my game is finalist in my category, I was filled with happiness
The conference itself was really amazing, there were a lot of booths of Israeli game companies and start-ups showing demos and a lot of cool and interesting people everywhere. I met a lot of new people and finally had the chance to say hello to old friends, it was great and I completely forgot about the GameIS awards ceremony. I connected with a lot of new people and received a lot of interesting offers. Later on, the GameIS awards ceremony started, and when the time of my category, Garage Games, arrived and my game was displayed on the big screen in-front of the whole audience, I finally realized this amazing position and I was very excited. When the game of the year in the category of "Garage Games" was announced, "The Cave Of Lights!", I was stunned. I went to the stage and received my award statue and an OUYA! It was purely amazing, I couldn't think of a better way to end this year, it gave me some kind of appreciation about my work as an indie game developer, a sign that I'm on the right track :).
That's it for the special events this year
Beyond those events there were of course a lot of the game jams I've been participating in:
Last but not least, I can't make a summary of my year without talking a bit about
The Kfar Saba Indies
If you don't know, the Kfar Saba Indies is an open group of indie game developers from Israel, we are making indie meetups on a cafe at Kfar Saba every second week. I love the atmosphere at those meetups, just sitting there with other game developers like you, learning from each other, showing your projects to each other, meeting new people, just sitting there, at the cafe, relax, and make games
Welcome 2014!
Ok, that's it, I'm ready, Goodbye 2013! It was amazing being part of you, I will have a lot of great memories from you, bye bye

And now, it's time to Welcome 2014! I have a lot of expectations from the upcoming year and a lot of goal to achieve. My goal for 2013 was to make at least one game each month, I learned a lot from that experience and now I feel that I'm ready enough for going to the next stage. My goal for this year is to make a big, complete game, from scratch to the stage of publishing it to the world. I want to take my gamedev skills to the next level, get more professional. I'm not sure about the correct path of achieving this goal, maybe I'll start working in a game studio? Maybe going truly indie and make my game alone? Or maybe form my own group of game development? No one knows what the future holds, I'll try to do my best and we'll see what happen
Thank you for reading,
Happy New Year 2014!