Hey everyone!
Big changes in my life were happening since my last post. I've started working in a little lovely studio called Moon Active located in Tel-Aviv. I've been working there for over a year with our talented team on the game "Wonderball Heroes".
Wonderball Heroes is a casual "Hit all the red pegs" game. It's my first time working on a real commercial game, and it turns out to be a lot of fun. I mainly programmed gameplay features such as powerups, obstacles, in-game effects etc. but I also had the chance to work on things like Facebook integration, analytics integration, WebGL, "business intelligence" and much more subjects which I was less familiar with during my "indie" period.
Wonderball Heroes is available on Android and iOS and now even on Facebook (Web)! It's highly encouraged to download and play
While working at Moon Acive I've still managed to work on my own indie games too
A few months ago I released a Hebrew game called "Guess Me" which I made together with a friend of mine, Barak Broitman.
That's my first published "commercial-indie game". Making this game was a great experience for me, I was responsible for all the stages of game making from the concept stage to the marketing stage.
You can can download "נחש אותי" from Google Play.
Wow, another year as an "Indie Game Developer" had passed and a new one is coming! I'm not sure if I'm more excited from this amazing year or from the upcoming year which is absolutely going to be even more exciting, productive and of course, full of game development!
Let's try and summarize what happened during this year:
It started with my decision of joining the amazing quest of 1GAM - "1 Game A Month", in which I accepted the challenge of making at least 1 game each month during 2013. I can proudly say that I've managed to complete the challenge and even made more than 12 games this year, unfortunately the 1GAM website wasn't capable of hosting more than 12 games per person
Enough talking, let's see which games I made during this year:
And there are even a few other cool games\projects which I created and weren't published
Beside (or maybe along with?) making all of these games I've been also fully socially active during this year. I tried to be as much social as I can on Twitter and Facebook and I participated on many game development events and jams. Some remarkable events are:
Global Game jam 2013
The first jam of the year! One of the coolest jam happening around the world (besides Ludum Dare of course
). I've already wrote a post about it which can be found right here.
Molyjam 2013 - Tel Aviv
That was an amazing international game jam which was hosted here in Israel, Tel-Aviv by us, the Kfar-Saba Indies! Eli Brody and I were organizing the jam hosting for a few week and managed to receive the whole 26th floor of the Electra Tower in Tel Aviv, which is the Google Campus floor
We also received some sponsorship and help from GameIS - "the digital games industry association in Israel", which was great. About 40 game developers (Programmers, graphic designer, musicians etc.) from around the country came to the campus and divided into groups, during the weekend of the jam each group made a game, and even Eli and I managed to form a group and make a game - A Tale of Two Maps
We met a lot of cool new people and our game received some coverage, which was really aweome.
Innovate for Good
Innovate for Good is a Microsoft YouthSpark Program in which teenagers from around the country meet each other to try and make a change in our community. I first heard about the program through Facebook, they were looking for designers, programmers and entrepreneurs, so I registered myself as a programmer. I had to do a short admission test to be accepted, making a little Twitter feed application in WPF. I successfully passed the test and a few weeks later I was at Microsoft offices together with a lot of other teenagers from around the country. We were divided into groups containing teen programmers, designers and entrepreneurs. In my group I was the only programmer
Each group was connected with an association that is working for the community, my group was connected with an organization called "Ofek-Liyladenu" which is helping parents of visually impaired and blind children. Our group had to build a Windows Phone application\game that will help parents of visually impaired children teach them how to read a clock. We had 2 months to build the application from zero and we successfully did it by ourselves and some help from Microsoft mentors.
Google Hangout Hackathon
The Google Hangout Hackathon was organized by Google and GameIS - "the Digital Games Industry Association in Israel". The goal of the hackathon was to make a Google Hangout application/game based on a theme, which was "garden games", in 48 hours while fully using the capabilities of Google Hangout. A few weeks before the hackathon, GameIS were looking for mentors who will go to a training day at Google about the Hangout API a few days before the hackathon itself, the role of the mentors was to roam between the groups during the hackathon and give them some help. I decided to be a mentor myself and went to the training day at Google, it was really fun to be there and meet the other mentors, but I most say that training wasn't informative enough
so I mostly learned for the hackathon by myself. Another special thing about this hackathon was that a few schools from around the country sent some of their students to it, so about half of the participants were teenagers while the other half were mature game developers, it was a really interesting experience and it was really fun taking part in it!
 Beside my role as a mentor roaming between the groups and helping them, which actually was really fun, I used to know almost everybody until the end of the hackathon, I also formed my own group together with some students and developed our own game! At the end of the hackathon there was a little lottery and I somehow won a  Nexus 7!
My Lecture: Being an Indie Game Developer
Three months before the lecture, Ofer Priell, a former educator, invited me to give a 10 minutes lecture in part of the "Hertzl" project, TED-like events for teenagers, held by "interesting, special and inspiring teenagers" . At first I was a bit unsure about this tempting invitation, what am I going to give a lecture about? Is my story as an indie game developer so interesting? inspirational? I had "only" three months full of drafts writing, brainstorming and rehearsals untill the big day. The event itself was amazing, 6 incredible teenagers (including myself
) with great stories from around the country giving lectures in-front of hundreds students from variety of high-schools. Including a story of a 18 years old entrepreneur, an 17 years old singer and cartoonist which is "also" an autistic, and of course there was my lecture! I learned a lot about myself thanks to this incredible experience and I even had the chance to share my view on life with a large audience, awesome!
GameIS Game Of The Year Award
Surely the best moment of my year as an indie game developer. The Annual Israeli Game Industry Conference took place at the end of December, what a great way to end 2013
Besides being the main event for game developers in Israel, this conference was very special for me because of the GameIS Awards Ceremony. "The traditional GameIS awards ceremony takes place as part of the conference for the sixth time this 2013. This is a recognition of the most outstanding Israeli games, declaring the most influential developers over the past year.". There are a few categories in the ceremony such as "Commercial Games" and "Mobile Games". A list of finalists in each category is chosen by a panel of judges, and from each category there is a winner which is announced live on stage and receive a nice statue and recognition.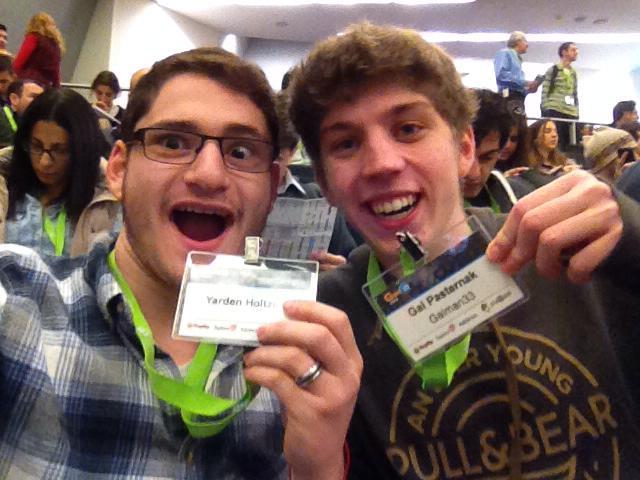 A few weeks before the annual conference the registration for the Game Of The Year Awards opened, I wasn't sure at all about submitting my games, but I had a lot of pressure from friends
so I submitted my game The Cave Of Lights in the category "Garage Games"(Games made by 1-5 people, indie). I made The Cave Of Lights all by myself during 48 hours for Ludum Dare 27 and I think that it was one of my best games. A few weeks later I received an email from GameIS that my game is finalist in my category, I was filled with happiness
The conference itself was really amazing, there were a lot of booths of Israeli game companies and start-ups showing demos and a lot of cool and interesting people everywhere. I met a lot of new people and finally had the chance to say hello to old friends, it was great and I completely forgot about the GameIS awards ceremony. I connected with a lot of new people and received a lot of interesting offers. Later on, the GameIS awards ceremony started, and when the time of my category, Garage Games, arrived and my game was displayed on the big screen in-front of the whole audience, I finally realized this amazing position and I was very excited. When the game of the year in the category of "Garage Games" was announced, "The Cave Of Lights!", I was stunned. I went to the stage and received my award statue and an OUYA! It was purely amazing, I couldn't think of a better way to end this year, it gave me some kind of appreciation about my work as an indie game developer, a sign that I'm on the right track :).
That's it for the special events this year
Beyond those events there were of course a lot of the game jams I've been participating in:
Last but not least, I can't make a summary of my year without talking a bit about
The Kfar Saba Indies
If you don't know, the Kfar Saba Indies is an open group of indie game developers from Israel, we are making indie meetups on a cafe at Kfar Saba every second week. I love the atmosphere at those meetups, just sitting there with other game developers like you, learning from each other, showing your projects to each other, meeting new people, just sitting there, at the cafe, relax, and make games
Welcome 2014!
Ok, that's it, I'm ready, Goodbye 2013! It was amazing being part of you, I will have a lot of great memories from you, bye bye

And now, it's time to Welcome 2014! I have a lot of expectations from the upcoming year and a lot of goal to achieve. My goal for 2013 was to make at least one game each month, I learned a lot from that experience and now I feel that I'm ready enough for going to the next stage. My goal for this year is to make a big, complete game, from scratch to the stage of publishing it to the world. I want to take my gamedev skills to the next level, get more professional. I'm not sure about the correct path of achieving this goal, maybe I'll start working in a game studio? Maybe going truly indie and make my game alone? Or maybe form my own group of game development? No one knows what the future holds, I'll try to do my best and we'll see what happen
Thank you for reading,
Happy New Year 2014!
At the beginning of this year the "One Game A Month" challenge was first announced by @McFunkypants with the glorious goal: making a game each month of the year. I, as indie as I am, couldn't refuse this challenge and decided to join this crazy challenge and try to get this "impossible" achievement. Actually, I'm doing pretty well, I already made 4 games in only 3 months of the challenge!  Yes, it added a lot of pressure to my "busy" life, yes, it reduced my sleeping time, but, most importantly, it is FUN and REWARDING 
This is a short overview of my 4 games:
 January - A Garden Planet
My January game, "A Garden Planet", was created in the Global Game Jam 2013 event, I pretty much covered it in my "Global Game Jam 2013" post so feel free to read it.
February - Yummy Yum Yum
This game was totally based on my entries for @DarkestKale #PixelChallenge. I made all the pixelart for this game by myself and it turned to be really neat
 I think that it's the first time that I've created a non-jam related game and released it. Some may say that this game is too hard, I think that it's OK, what do you think?
March - Apollo 11 - The Remake
This game was created by me and the amazing models by Raz Freedman(@Yinara100) for the "Dark Side of the Jam - A NASA Hosted Game Jam". My idea was to try and "remake" the Apollo 11 landing on the moon journey by using all the amazing assets provided by NASA. It also was my first time making a game in Unity3D. The usage of the real Apollo 11 Audio clips made me feel really excited, I also did a lot of research about the Apollo 11 and learned a lot of new things.
March - Rogue3D
My second game in a row on March! I started working on it just after finishing the "Dark Side of the Jam". This game was made for the amazing #7DRL jam, creating a RogueLike in only seven days was an interesting task. I decided to use Unity3D again and make a 3D RogueLike! I started with the map generation algorithm, at first I wanted to use a premade algorithm but I decided to try and write my own, it turned out be really good and I think that it's a key feature in my game
I played a lot of RogueLikes during the jam to get "inspiration", I really liked the idea of the "Potion of Randomness". I think that it's one of my best game (especially for RogueLike lovers
)
That's it (for now) ! I'll be looking for next months' game jams and try join them (LUDUM DARE
) and because I'm in vacation from school right now, Tim and I are going to get back developing our game so be ready for a new big devlog!
Hey everybody!
Last weekend I participated in the Global Game Jam event for my first time, it was a really fun experience. This year, Google accepted hosting us at the "Google Campus TLV" for the whole 48 hours of the jam.
When Tim and I arrived to Google it was still a bit empty so we took a short walk around the office. It's a really great place with an awesome view to Tel-Aviv, really inspiring. We talked to some people and showed them our indev game. Then we set up our "working environment" near an available power source when Eli arrived. Later on, the "opening ceremony" started. A lot of sponsors rubbish until the awaited part of the ceremony started, the theme revealing.
I was a bit disappointed of the theme, it was an audio of the 'sound of a heartbeat' . We got about 15 minutes to get up with an idea and divide into groups. Eli, Tim and I decided to form a group together which will represent the KSindies
 I came up with the idea of a making game where the world is a "living" creature with an heart that you have to take care of. Eli and Tim developed the idea: Making some kind of an "environment" simulator where the player has to maintain the balance of the nature so the world will continue to live and won't die. The 15 minutes period has ended and we had to get back to the ceremony area. Each person who got an idea was asked to get on the stage and tell about his idea, which group is he in and which people the group needed (programmers, graphic artist, 3d modelers...). I did a short speech about our idea and said that everyone who is interested by our idea is welcome to join us.
We got back to our working environment to start working. We set up a Git reposity in Github and for the first time I worked on a code together with someone else. I was sure that there will be a lot of merging problems with Git and that it will be hard to work on the same code at the same time but actually it was really smooth and surprisingly simple. Later, we somehow met Assaf Halevi, a game sound designer. He proposed to help us with the sounds and music in our game. We were really excited about the music and sounds that he composed, we really liked it and I think that it added a lot of "meaning" to our game. A nice thing about our game's music is that as the world starts to die the music become sad.
We spent most of the first day prototyping our game, we did a lot of paperwork and calculations and a bit of the player movement programming. For lunch we took some burgers from a restaurant nearby, it was fun eating in Google while seeing all the people working on their games. Eli had to leave early but I still stayed there with Tim. Tim did a lot of great pixelart and I made some basic gameplay programming. After some hours we ran out of energy so we just walked around the place and watched other groups' games. We stayed there until 22:00 and then returned home.
The second day was really intensive, Eli and I arrived back to Google at about 9:30. Unfortunately, Tim was sick that day so he had to stay at home, but he helped us from home
We worked non-stop on day two. The pressure was really high and we wanted to implement a lot of features. It was fun getting into the code and adding features one after the other. Our work distribution was nice: I did all the game logic programming and Eli did all the "math" programming. We had to cut out some features from our game and we didn't have enough time to fix some bugs but we are really happy from our final game.
After some hours the deadline arrived and we had to upload our game to the GGJ website and register it to the "closing ceremony". In the "closing ceremony" each group showed their game, there were some really nice games made in this GGJ and it was really exciting watching all the great work that all of the groups did. We've also showed our game and I also gave a short speech about the KSindies.
Now it's time to talk about our game: "A Garden Planet"
The world is alive… a fragile balance must be maintained! Watch as the dynamic world decays and fragments before your eyes — leaving you with the unmistakable conclusion that we cannot simply stand by while the world falls apart around us. Listen to the heart of the planet.
In our game you play as an angel flying around the world. We made some kind of an environment simulator consisted of animals and plants. As the time passes the animals get hungrier, the hungrier the animals get the unhealthier they get. When animals get hungry they eat other animals and plants. When animals or plants are eaten they die. We planned to add more features to the game such as water and new plants that grow from the animals' corpses and let the player to take part in maintaining the balance of the environment. Our goal with this game was to deliver the message that we can't just stand by and watch our environment decay and that we must take actions and try to save it.
The Global Game Jam was a great experience for me and I'm going to save some good memories from it
Hey everyone! This is a new category in my site, it's about my life as an indie game developer. Let's just get started
Two weeks ago I was at the "The 5th Israeli Games Unconference". The unconference is an annual event just like a regular conference but more "participant-driven", the participants themselves are doing the sessions, lectures and demonstration. I was there with Eli Brody and Tim and we had some really good times there
This was our first time showing up in a public place as indie game developers and I think that it was a huge success
We met a lot of other cool people who, like us, are interested in game development, music, graphic, level design and more. We had the privilege to play Johann Sebastian Joust and it was a really interesting experience. Most important, we had the chance to show our in-development game and get some constructive feedback from fellow developers. In addition to that, we managed to increase awareness about our KSindies meetups 
All in all, it was a great experience being there and I just can't wait for the next game development events such as the Global Game Jam and the GameIS conference.